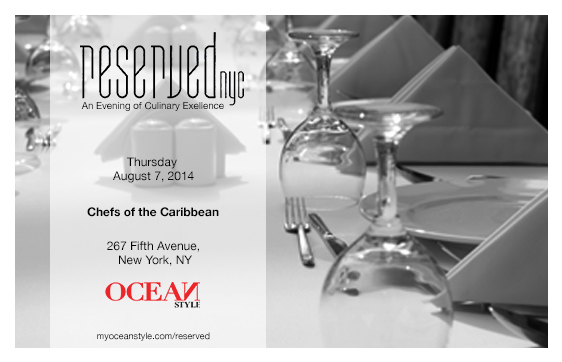 RESERVEDnyc. – Chefs of the Caribbean
An Evening of Culinary Excellence.
RESERVEDnyc will feature acclaimed Caribbean chefs from some of the most highly regarded resorts and restaurants in the Caribbean and the New York area.  You will be treated to an elegant evening which will include traditional and modern Caribbean cuisine cocktails, entertainment and a silent auction that will benefit charity.  Each chef will prepare 2-3 dishes.
Join us for a memorable culinary experience tailored for an audience with an appreciation for fine living and exquisite food.  An intimate affair, guests will have the opportunity to feast on a wide array of different dishes and interact directly with the Chefs.
We will also have live music on hand for your listening pleasure.
Thursday August 7 at the Penthouse 267 Fifth Avenue, New York, NY.
……………………………..
Caribbean Cocktails & Silent Auction 7:00pm – 8:00pm
Dinner 8:00pm – 9:30pm
Cocktails & Entertainment 9:30pm – 11:00pm
Confirmed Chefs – click to see their bio pages
Chef Purmessur (Coconut Bay, St. Lucia)
Chef Sean John (Spur Tree, NYC)
Chef Shorne Benjamin (ShorCulinaire, NYC)
Chef Tim Tibbitts (Flying Fish, Bahamas)
Click here to view the RESERVEDnyc MENU.
Live Entertainment by R'Kardo St'Von and his 4 person band
Fresh off his highly rated performance at the Tobago Jazz Experience.
Dress: Caribbean Elegance

Tickets.
Individual $150 per person.  Tables Available.
Price includes Dinner & Cocktails.
For more details please contact OCEAN Style rita.nyarkoh@myoceanstyle.com