Wedspire announces the launch of Wedspiration in combination with celebrity bride Rachel Lindsay partnership
LAS VEGAS, Dec. 14, 2017 / — The premiere of Wedspiration is coupled with the announcement of a partnership between Wedspire and Rachel Lindsay, 2017's "The Bachelorette." On Jan. 20, Rachel will be presenting the newest features at Wedspiration 2018, the interactive wedding showcase at the Ebell of Los Angeles.
In addition to Lindsay sharing her wedding planning journey through the platform, Wedspire's top local wedding pros will showcase their work through interactive stylized displays. For the first time, newly engaged couples can have a unique opportunity to experience different wedding day elements, from the ceremony and cocktails to the reception and dancing, all while sipping champagne and enjoying a selection of decadent hors d'oeuvres. Wedspiration 2018 will allow these engaged couples to visualize their upcoming celebration while browsing through these design spaces that demonstrate how wedding day inspiration is shoppable.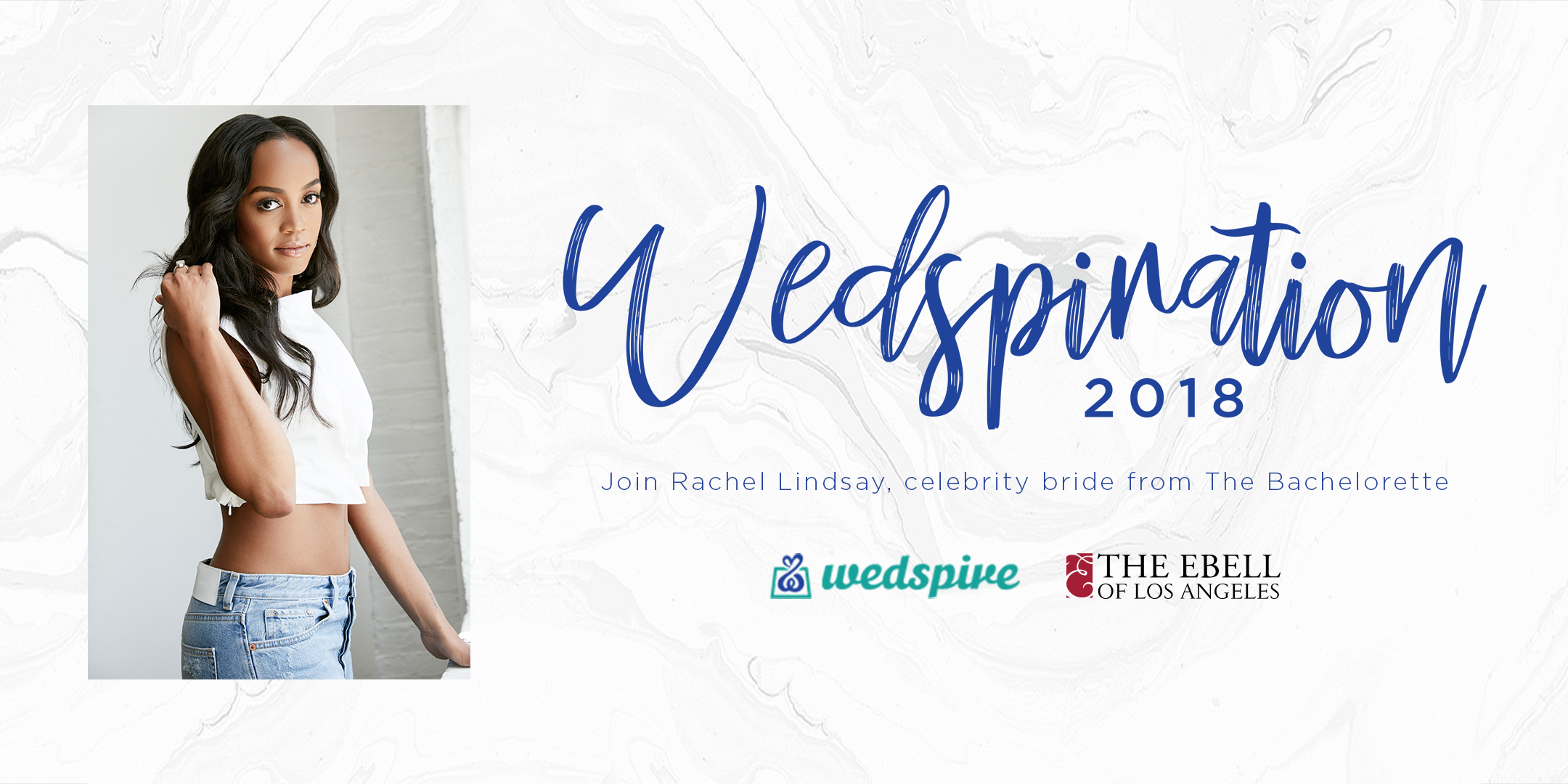 Wedspire is a curated marketplace for all your wedding planning needs. Imagine if Pinterest created a customized wedding inspiration feed based on your style, taste and budget; now click "add to cart" – that is what Wedspire has created for engaged couples. By transforming the painstaking process of searching and vetting vendors, we combined the most innovative tools to allow newly engaged couples to search, save and shop all in one place.
This partnership and arrival of Wedspire's new feature comes at a perfect time for Lindsay, who is set to tie the knot with Bachelorette Season 13 winner Bryan Abasolo. Equally, Afeisha James Kipps, CEO of Wedspire, is thrilled to work alongside Lindsay. "Rachel epitomizes the Wedspire brand and the direction we are headed with our newest feature – Modern, Stylish and Celebrated." Kipps continues, "We're thrilled to work alongside Rachel to create this one-of-a-kind inspirational experience for engaged couples that truly brings to life our shoppable Wedspiration feature in an interactive and exciting way."
Tickets to Wedspiration 2018 are now available to purchase via early bird special online at http://bit.ly/2ApMO2E.
To learn more about the event, head to the event page or email press@wedspire.com.
About Rachel Lindsay:
Rachel Lindsay is an attorney and an American television personality who is best known for her role as a contestant on the 21st season of ABC's "The Bachelor" and as the bachelorette on the 13th season of "The Bachelorette." She is the first African-American bachelorette in the franchise's history.
Lindsay obtained her undergraduate degree at University of Texas at Austin in sports management, then went on to receive her law degree from Marquette University Law School with a concentration in sports law. Driven and passionate about her career, Rachel currently works at the prestigious law firm Cooper & Scully, P.C. in Dallas. Lindsay represents clients in a broad variety of litigation matters in state and federal court including local government law, employment, business litigation, premises liability and general insurance defense. Prior to joining the firm, Lindsay worked for several Texas municipalities, Texas State Senator Royce West and interned with the Milwaukee Bucks and the National Basketball Association.
Outside of her legal practice, Rachel is a member of the J.L. Turner Legal Association, American Inns of Court – Patrick E. Higginbotham Chapter, Dallas Bar Association and Dallas Association of Young Lawyers. Rachel is a volunteer for the Beacon Hill Preparatory Institute, where she tutors high school students in reading, writing and SAT prep. Additionally, Rachel is actively involved with her church, Concord Church of Dallas.
Lindsay is an avid sports fan, enjoys jamming out to Michael Jackson and Prince, spending time with family, dancing, exercising, watching scary movies and reading. She currently resides in Dallas, Texas.
About Wedspire:
Wedspire is an exciting two-sided, curated marketplace for all your wedding planning needs. It is our mission to take the "stress" word out of wedding planning, by giving couples Netflix-style recommendations and personalized matches to the best wedding pros. Filled with inspiration and planning tips, Wedspire helps turn couples' ideas into reality.
SOURCE Wedspire